eviction notice
The length of time spent in a place does not necessarily make it 'home', but nearly 40 years and events that happened there qualifies it for me as such. So it kinda hit hard when the landlord informed us that they'll stop renting out the apartment, for understandable reasons. It took a while to sink in, but the implications and logistics of everything flooded the unprepared me. [2017-08]
in search of a new home
-net is lyf
Blindsided is a bit of an understatement. I recently switched to a fiber internet and just a few months into a 2 year lock-in period. The contract stated I have to pay the remaining 20-ish months if I pre-terminate – ouch. Their speed and price is the best around so I wasn't going to switch, but availability is only restricted to some areas/cities. Thus priority #1 was fiber transfer.
-traffic hell
The transport situation in PH is only going to get worse as time moves on. The QC apartment is in a quiet and peaceful location, but I never really questioned that 1-2 rides were needed to get to the trains. So to get across the metro, that's additional fare, 15-45mins and prone to random gridlocks. A good location would be walking distance from one or two trains. I used a map radius tool to give me an idea of potential search areas, and asked fb friends for recommendations.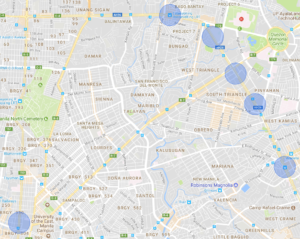 -525,600
Rent or Buy? I've read articles justifying either choice with their situations, pros and cons. Found a condo unit in the perfect location with a feasible price, but papers and bank financing won't be ready by the time I have to move. So there was no choice than rent first then try to buy foreclosures/defaults somewhere down the line.
-choices, choices, choices
Knowing the requirements and parameters, I took to searching high and low for candidate places for home 2.0.
Cubao Condo – pros: really near mrt and lrt2, near puregold.
D. Jose Condo – pros: really near lrt1 and 2.
Shaw Condo – pros: beside mrt3.

Near Balintawak Station – pros: short walk to station, puregold across, 2 floors, price within budget. Cons – isp check fail, corridor was too narrow.

Near 5th Ave Station – pros: really short walk to station, large floor area, best price. Cons – isp check fail, construction beside it will soon cover the window area.
Near SM North – pros: near sm, medium distance to lrt1 and mrt, brand new, isp approved. Cons: 4th floor, most costly, smallest floor area, dreadful walk/driveway, flood prone street.
Within UP campus – pros: jogger/bikers paradise, isp approved, price is ok. Cons: far from trains, far from supermarkets, area has slight bad rep.
Pasay Area – pros: hefty walk to lrt1 and mrt, unit has its own water&elec meters, price is ok, isp approved. Cons: tiny studio sized, renovated but old, possibly flood prone.
-drum roll please!
Weighing all factors, Pasay won because of its pros and straightforward/frank about their info/situation.
-Pack that sh1t – SBC packers
Emotional, time-consuming and hard. Those are some words I can use to describe the process I went through while packing my life's worth of stuff for transport. I even had to channel my inner Marie Kondo to let go of good/memorable stuff but 'did not bring me joy'.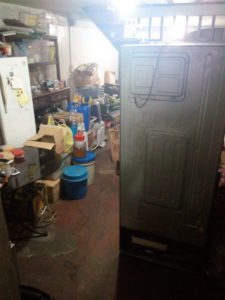 Since I have a ton of essential and sentimental items, with only a tiny space to move into, I had to sort what I needed to bring and what to send to my parents for long term storage. To help me plan out and visualize what to bring, I used homestyler which gave me ideas to maximize the space.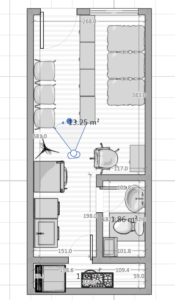 -i like to move it move it (3x)
Yeah, it took three major batches of moves to get it done.
First was a big closed truck for my essentials to Pasay.
Second was a bigger closed truck for Xtian's stuff and my 'to store' headed north to Bulacan.
Third and final was a 6-seater Grab car for the last sweep of items.
-goodbye and hello
It was one hell of a roller coaster ride of hard work and emotions. Two short months from notification to the last look at my childhood home. An old door closes and a new adventure begins!